I love the smell of whole-wheat bread baking in the oven. What's even better is a thick warm slice of it slathered with butter. Mmm…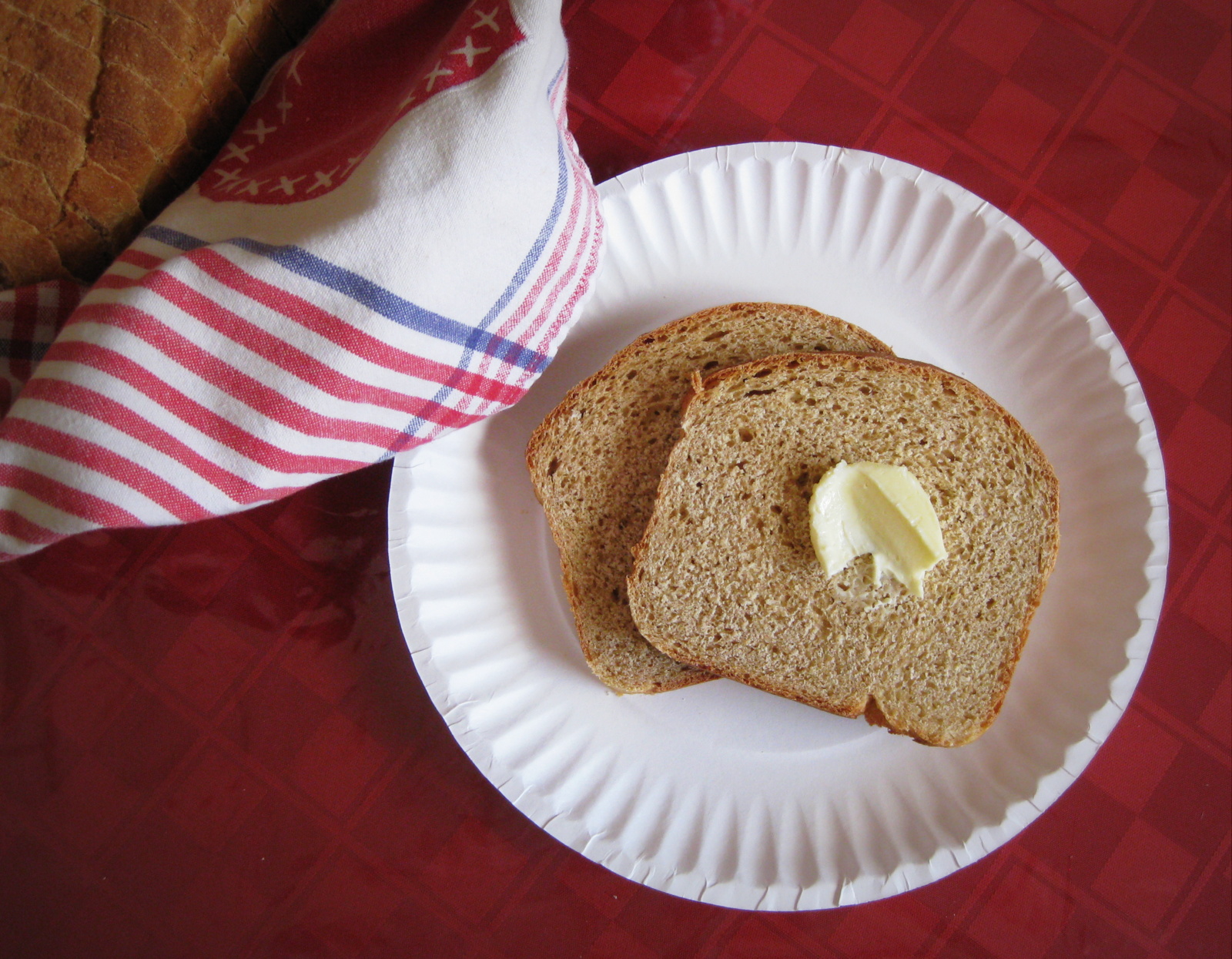 Thankfully, I get that treat every week.
For the past seven years I've been the family bread baker. Baking bread has become second nature to me. It' something I do without hardly thinking now, but it wasn't always that way.
As much I love bread, there have definitely been times when my relationship with it has been disastrous. The early days of experimenting with unpredictable bread machines yielded "delectable" things that we nicknamed "goulash" or "puffywuff."
Over the years I've gotten much better. Even though I still have much to learn, here are some tips I've learned:
Tips for Great Bread:
Use warm water but not hot water. Warm water activates the yeast; hot water kills it. (The water shouldn't be hotter than 110 degrees.)
Store yeast in the refrigerator (storing it in the freezer will kill it). If your yeast is old, you might want to try proofing it.
Lightly grease your hands with olive oil when kneading or shaping the dough to reduce sticking.
Remember that dough rises best in warm places.
And lastly, have fun! Making bread can be challenging at first, but with time, it becomes second nature. If one recipe fails, don't give up. Look around for other bread recipes and more tips about the great art of bread making.
And without further ado, here is my trusty whole-wheat bread recipe:
Homemade Whole Wheat Bread
dairy-free, sugar-free, and soy-free
Ingredients
½ cup coconut oil
⅔ cup honey (or ½ cup)
4 tsp salt
4 cups warm water (I use the warmest water from the tap; about 105 degrees)
13-14 cups whole wheat flour (I use freshly milled organic white wheat)
2 Tbs yeast
Instructions
In a mixer with a dough hook attachment, combine the oil, honey, salt, and water. Add about 8 cups of four and the yeast. Mix until combined.
Add about 4 more cups of flour.Mix until combined, then turn the mixer to the next speed and knead for a couple of minutes, adding additional flour as needed (about 1 or 2 more cups) until the dough no longer sticks to the bowl of the mixer.
Once the dough is no longer sticking to the bowl, knead for 8-10 more minutes or until the dough is stretchy and elastic.
Cover the dough and let it rise for about 30 minutes, or until the dough is doubled in size. Line four bread pans with parchment paper.
Punch down the dough with your fists and divide it into 4 lumps. On a clean surface, knead each lump of bread individually by hand for about a minute or so until the dough is deflated. (I rub about 1 tsp of olive oil on my hands to prevent the dough from sticking.) Shape the kneaded dough into a loaf and place it in a parchment paper lined bread pan. Repeat with each loaf of bread.
Cover the loaves with a towel and allow to rise for about 40 minutes or until the loaves are doubled in size.
Remove the towel and preheat the oven to 350 degrees. Place loaves in preheated oven and bake for 45 minutes or until golden brown. (I usually bake mine for 30 minutes in a convection oven).
Allow bread to cool for about 10 minutes before removing from pans. Slice and serve warm, or allow to cool completely and store in plastic bags*. (I use twist-tie bags.)
Notes
*To check if the dough is elastic: Grab a clump of dough, stretch it out between your hands in front of a sunny window (or some type of light source). If you can see light shining through the stretched dough before it breaks apart, then the dough is elastic and done kneading.

Since this bread does not have preservatives in it, it will only keep for about five days. It will get drier as the days go by, so I like to store extra loaves in the freezer if I know they're not going to be eaten soon.