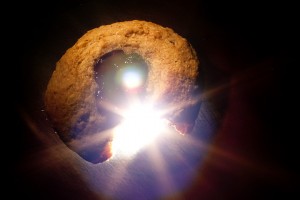 Ingredients:
1 stick butter
1/2 cup vanilla yogurt
1/2 cup sucanat w/honey
1/4 cup honey
1 egg
3 cups flour
1 1/2 cups blueberry granola
1 teaspoon baking soda
1/2 teaspoon salt
1 container blueberry jelly
Blend butter, yogurt, sucanat, honey, and egg.
Stir flour, granola, baking soda, and salt.
Add the dry mixture to the wet mixture and mix.
Roll into balls. Press down the centers of each cookie with your finger.
Fill the hole with blueberry jelly.
Bake at 350 for 19-20 minutes.
– makes about 3 dozen